Increase local customers and make more sales by optimizing your GMB – Google My Business Listing
Claiming and verifying your local Google My Business listing Is an absolute must if you want to increase your sales locally and get more customers. Your competitors are probably doing it, so you better be doing it too.
You want to rank your business in Google's local pack, and since it's free, it just makes sense to take some time to add your company details into the largest search engine in the world. Google has over 92% of the market share so you can forget about any other search engines.  You have control over this, and if you are the owner, then you know all the fine details about what makes your business unique.
Google is continuously making changes to its algorithms or local search, and they add these great features to Google My Business, not just for their benefit. They do this for the benefit of the person searching.  
Claiming and verifying your GMB listing is an easy first step. If you want to get started, just visit  https://www.google.com/business.

Google Asks For A Lot Of Information – Do It Right The First Time
Instead of just claiming your Google My Business listing and getting it set up like some sort of yellow page ad, take some time to learn how powerful GMB can be for increasing your sales.  
The most important thing you want to do in your listing is to make sure that you answer all the questions in the profile.  Since you are the business owner, this valuable information is going to make it easier for your customers to find more information about your company and business. 
Just as a heads up, be aware of the fact that someone else could also suggest an edit or change to your business listing without you even knowing about it.  A competitor who is trying to go to any lengths to rank their business higher than yours may very well be the culprit.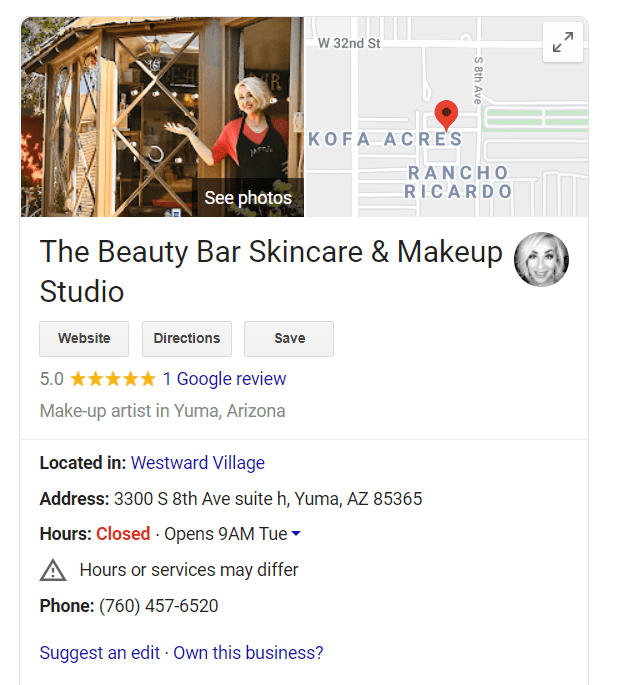 As shady as this sounds, it is real, and you need to know so you can protect your reputation. 
The point of what you are reading is to provide a brief education on the power of Google My Business and how it can help your business make more sales.  But since you are not the owner of Google, you must understand their rules and how to play by them.  
We are going to be going over how to optimize GMB, so when you are on the dashboard, checking for any changes will become second nature.  As you develop this simple marketing habit, any change made without your authorization will pop out at you, and you can immediately address the issue.
It's pretty simple to do. Just log into your Google My Business account and if there have been updates, there will be a message letting you know.
You may or may not see updates Google discovered through their algorithm or someone else published it. If you do see it, just click on the "Learn More" to make sure they are accurate.  If not, just remove them or review them and click the "Accept all for this location."

We do know that Google has stated that they send emails out when a change is made, but for the most part, we've discovered that that's not necessarily the case. 
It is disconcerting that someone can go into your account and suggest that your Google business category be switched from a Mexican food restaurant to a Greek restaurant without you knowing, but that's just what could happen. Some businesses have even had pictures of a competitor's store placed up On There Google my business listing and also along with the website address change to direct people to the competitor's business.
One of the exciting things about  Google is that they use the information other people have about your business so they can get to know you more. And they do this by simply asking a question that seems innocent enough like "Know this place? Share the latest info."
So if the person searching for you knows the answer to a question and responds, Google will pop up another question. They don't have to, but if you have a competitor or somebody who wants to mess around with your listing, this is how they do it.
Although business owners have tried to raise this issue with Google, their position is that it is more beneficial for everyone as a whole to help provide useful information to the community.   Since this is Google's playground, they are going to allow users just to be honest and play fair.
So the bottom line is once you get your listing verified, just check it often so you can quickly respond to anything out of line. 
If your business is verified, then you can start using the power of Google my business for your benefit. And since you will be optimizing your Google My Business listing, it will practically become second nature to respond to any update notifications that Google might send your way.
How Google My Business Posts Bring Sales
Posting in Google My Business is very similar to posting in your social media accounts, but these postings show up in your GMB  listing when someone is searching.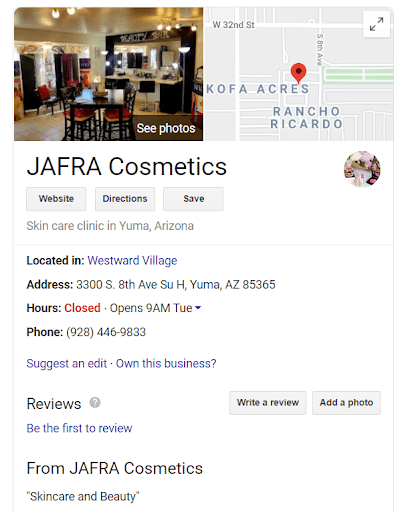 Posting is pretty simple to do. All you have to do is log into your Google my business dashboard and look for the posting option, then just click it.

Your local business can get super creative by adding just about anything they want into a listing.  
Images, along with a strong call to action that takes the visitor back to the website for a special offer or coupon is something that local consumers love to see and use.
Post ideas for getting clicks:
If it's the 4th of July or some national holiday, just to create some news celebrating it. You don't always have to be selling.

Nearly every business can make up some kind of sale during a specific time. So, create a post about a "Limited Time Availability" sale.  And then send them to your website.

Did you just get an excellent review?  Repost it!

Got a new product or service to list? Create an announcement and let people know along with a link back to your web page showing it off
Google My Business Posts Help With SEO
GMB posts are the one of the main areas for increasing your online exposure.  Make sure your posts include and interesting image, are at least 80 words long including some of the keywords you want to be found for but don't make them spammy sounding. They should also have a link in the body to a relevant page or post on your website and a button that links to the same place or is a different call to action like call now.
Here are a few examples you can check out to copy:
Make Posting Fun
If you want to stand out from the crowd, learn how to use emojis, and add them to your post, Google is now indexing Emoji search results; it's worth it to start using them. Younger people are using emojis to do searches for things like pizza or salons near them instead of typing it out.
Now you may be thinking, why would somebody do that. But the fact is none of us understand people until we start doing some experimentation with marketing.  
The best part about doing this, though, is that Google provides us with plenty of data to help us as local business owners Market better and do the things that people are currently doing.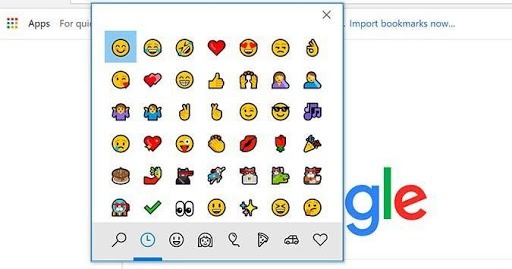 Emojis are kind of like a second language if you are trying to memorize keystrokes.  You don't have to do that, so if you have a Windows computer, just type the Windows key and the period "." at the same time and this opens up the emoji library.
Hover over each emoji, and you will get an explanation of what it means (don't worry about feeling like you are an old-timer here…we all did at one point!)
So let's say you have the best burritos around.  It may sound strange, but when people search for local services like that, they are usually in the mood to make a purchase.  And these days, that may search like " 🌯 near me," and Google returns the burrito places near them.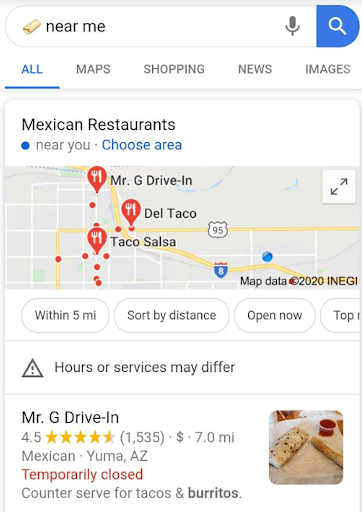 It's pretty awesome and not many people know about it, so just keep that tip close to you and see if it makes sense to add a relevant emoji to your Google Post, go for it!
UPDATE May 2020:  I just tested the strategy today with an ice cream cone emoji, and it brought up three local frozen yogurt and ice cream businesses. If it's relevant, then put the emoji in the post if it fits your business, just don't overdo it.   You want to maintain professionalism over trying to be smart.
Google posts stay alive for seven days, and if it's an event, it goes into a dark mode. Your postings will still appear in your listing, but if you are posting regularly, they will just show up at the bottom.
One of the great things about using Google my business as a marketing strategy for your business is that Google will send you reminders about doing more posts.  So just make it a habit to log into your account two or three times a week and spend about 10 to 15 minutes working on something new and exciting, even if it's a blend of personal and business.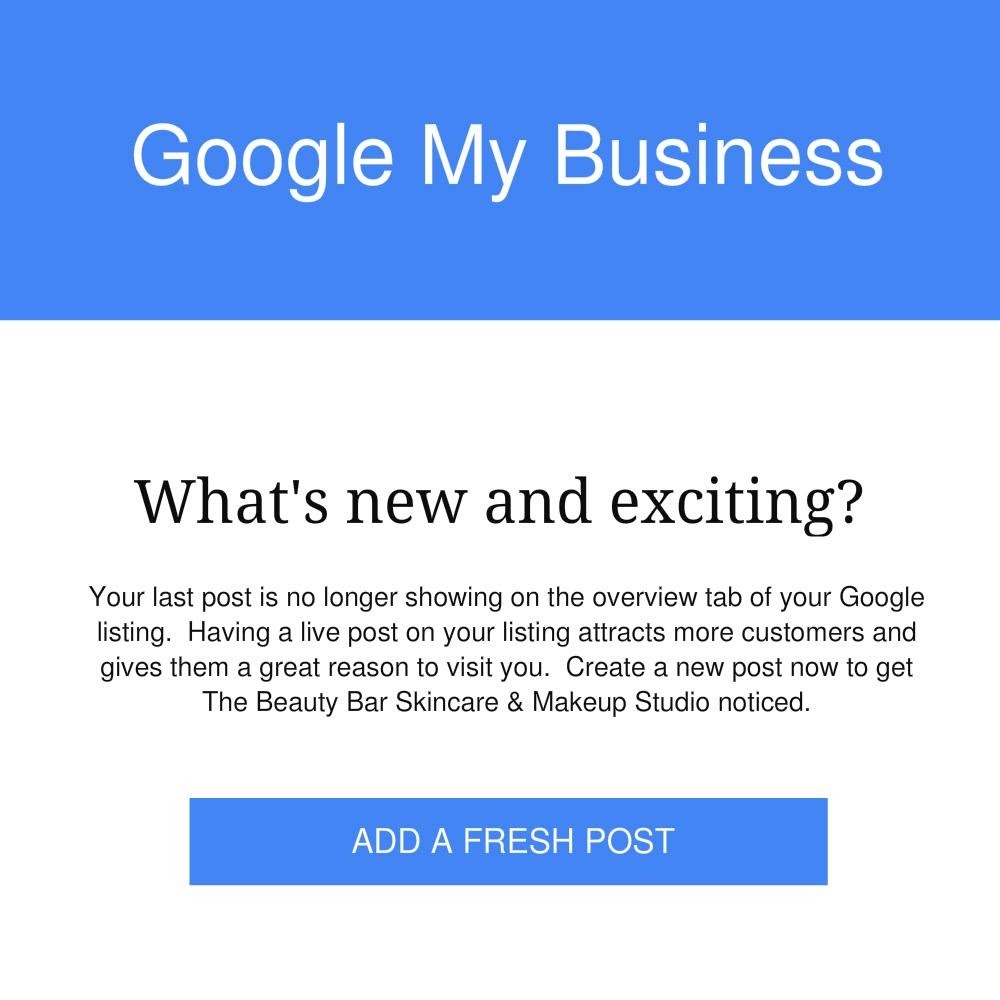 Remember, you are a local business owner, so people want to know you and what you are about along with what kind of products and services you offer.
Over 70% of searches are completed on mobile devices.  
What this means for you is that the posts you do are going to stand out when a user finds your business in a search, so make sure you are committed to consistently doing this simple marketing process.  
We know that your visitors will be happy, and you will be impressed with the response once you start doing this regularly and seeing the results. 
You can even create OFFERS, like this business in San Diego: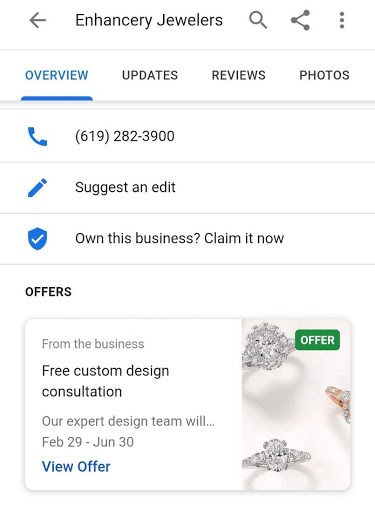 Do You Do Bookings or Appointments?
Not a lot of businesses know this, but you can rise above your competitors by setting this feature up for your business.  
When it comes to scheduling automation, most businesses are used to embedding software under their website, but this allows users to do it straight from your listing in Google my business.  
 If all they are looking for is to make an appointment with you, they can do it right from their search instead of visiting your website! Now that is some excellent customer service that Google takes care of for you.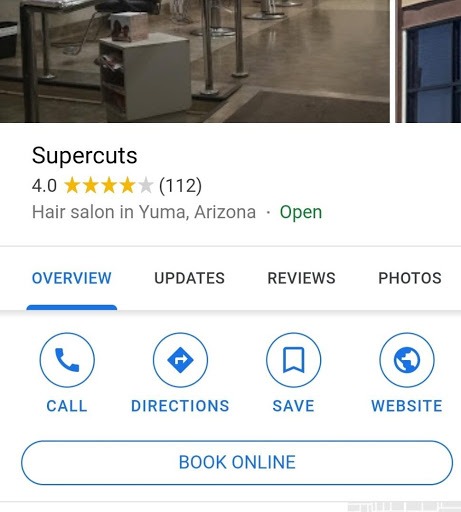 This button is automatically added to your GMB listing if you are using one of the scheduling providers they already support. 
GMB Messaging
We mentioned this earlier, but it's worth repeating. Google My Business is a local SEO power tool. And since 70% of your potential customers use a mobile device, give them an easy way to contact you right from your GMB listing with text messaging.
You set up messaging in your GMB dashboard by merely putting in your mobile phone number along with a message you want them to receive when they send a text.
Pretty simple, right!  And if you don't want to use your phone number you don't have to.  It will drop messages right in your Google My Business app.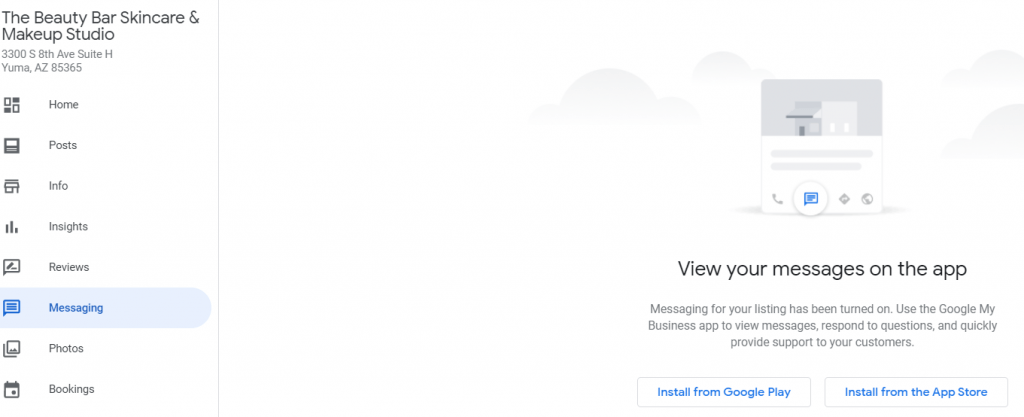 Using Reviews To Boost Business
Most local business owners have heard of the term "Reputation Management." It's just a polite way of saying you are keeping on top of what people are saying about you online, especially in Google reviews.
These reviews in Google show up next to your Google Maps listing and in the Knowledge Panel.
You may have heard otherwise, but Google thinks it's a good idea for you to ask your customers what they think about you and post it in their review section.  We believe this just makes logical sense, too, since all of the data is showing that reviews affect how much people trust your business.
In 2019, BrightLocal produced a survey about consumer activity and how critical reviews can be to the bottom line of your local business:
90% of consumers use the internet to find a local store in the last year, with 33% looking every day

82% of consumers read online reviews for local businesses, with 52% of 18 to 54-year-old saying they always read reviews

The average consumer reads ten reviews before feeling able to trust a business

Only 53% would consider using a business with less than four stars

The average consumer spends 13 minutes reading reviews before making a decision

Among consumers that do read reviews, 97% read businesses responses to reviews
Before you embark on an adventure to get all the reviews you can get,  follow Google's guidelines when asking customers for reviews. Don't violate these policies; otherwise, you risk having reviews removed by Google.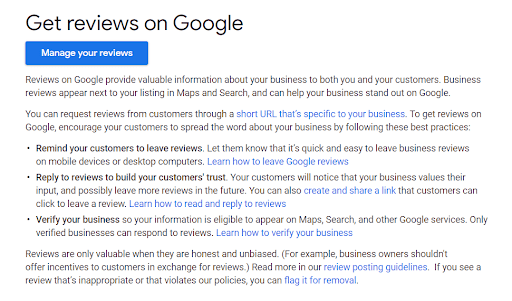 One of the things you, as a small business owner, want to make sure you do is not filter out people who are leaving bad reviews so that you get the good ones. Google calls this "gating," and in 2018, they made it a policy prohibiting businesses from discouraging negative reviews from dissatisfied customers.
Let's go ahead and address something you may be thinking already, like maybe offering somebody money in exchange for a five-star review. You don't want to go down that road! 
Not only does it violate Google's terms and conditions, but you also don't want to set this kind of Precedence for your business.
So when customers leave reviews for you, good or bad, just make sure you respond to them. It shows the customer you are paying attention to this short little conversation where they are saying thank you. And if it's a bad review, it does show those potential customers you are doing something to make a problem right if they received poor service.
For the most part, if you're a good business providing excellent service and most of your reviews are in the four or five range, you can expect a positive response from visitors. They don't expect you to be perfect. And if they see a bad review or a 1-star rating with a toxic sounding comment, it's probably going to be overlooked.
How To Start Getting Reviews
Just like any kind of marketing, oh, you want to develop an approach to asking four reviews the right way. Probably the easiest way is only to provide customers a link to your Google my business listing where they can leave a review.
As usual, Google makes it easy in this article on how to create a direct review link for customers.
There are lots of ways this directly including emails, social media posts, and directly in your Google my business posting. When you ask someone if they enjoyed your product or service, it just makes sense to ask them why.
So, in essence, that is all you're doing. You are asking someone what they like most. And then you were asking them to put it in the form of a review.
The Power Of GMB Images and Videos
Right now, you are consuming content in written form with some good quality images.
However, it wasn't so long ago that images and video loaded so slow online, You would be almost foolish to build content most people couldn't view without frustrating them so much they would leave your website.
If you've been online for any amount of time, you know that that has changed substantially!
Video is rising to the top! And you don't even need to have sound since most Facebook videos are viewed with the volume all the way down!  Of course, you do need to be adding subtitles or text to videos if you're trying to communicate a marketing message.
And the best part is, that you as a business owner, no longer have to rely on a professional videographer or photographer to put this type of media in your Google my business listing.
All you need is a smartphone! 
Tip:  If you have a teenager or an employee who uses social media frequently they probably have good photos bombing skills, ask them to get some great pictures of your business, services, products along with you in there.
One of the cool things you can do, along with asking for reviews is to let customers know that they can post photos in your business on your Google My Business listing.
Adding pictures and videos to your GMB posts will start to set you apart from your competition. You should be excited about this because a lot of people just think it's not worth the work to do it. But it's so simple to implement!
You can shoot a video for up to 30 seconds and grab attention the potential clients that can easily translate into more sales.  And if you want to get creative, blend in some humor in your posting. Just keep it professional and appropriate to get a boost in popularity and visitors as it gets shared.  Who knows, your post could be the next local "viral" news!
Easily Add Videos To GMB in One Click
The first thing you need to do is log into your Google my business dashboard and click on the photos button or the blue plus sign, then upload or drag the video in from your computer.

We love that Google makes this so easy to do!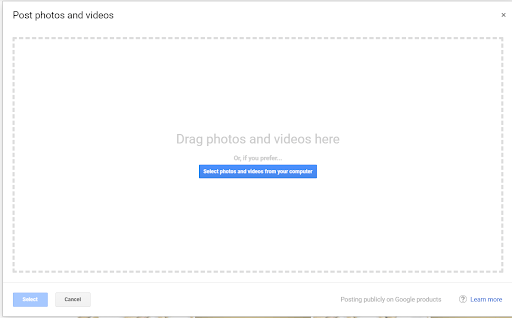 Besides having a 30-second long video limitation with Google, it's also good practice to remember that most videos that you do to capture people's attention should be kept between 15-30 seconds to satisfy their curiosity.  Beyond that, they are likely just to click away from the post.
One of the requirements that Google stands by is that the videos are taken at your place of business.  Someone must either be doing work there or performing an action that relates to your specific type of business.  (For example, you don't want to put a stock video of some random plumber working in the snow when you are a plumber located in Phoenix, AZ!)
Google owns the platform, so we have to play by their rules. It is their prerogative to remove any images or videos if they believe it is not your business location.  
Anything you do as a business owner will display as the owner, but when customers upload their videos or images, those show as customers or others.  
So whatever you do, don't try to be sneaky, one of your customers may see something inaccurate and cry foul.
Creating Your Business Description
It's only been in the last couple of years Google added the business description as part of your listing options.
You have the opportunity to state a brief but powerful message about what makes your business stand out in the community.  
There are guidelines to follow, but this FREE option can be an excellent opportunity to convert "tire-kickers" to link clickers!
The important thing you need to know is that you can have up to 750 characters, but you want to take advantage of those first 250 characters. After that, the description gets cut off. Use your keywords, including your city and the most relevant information people will want to know, at the beginning.
Google is in the business of providing their searchers with quality information, so they do review this, so make sure you follow their guidelines: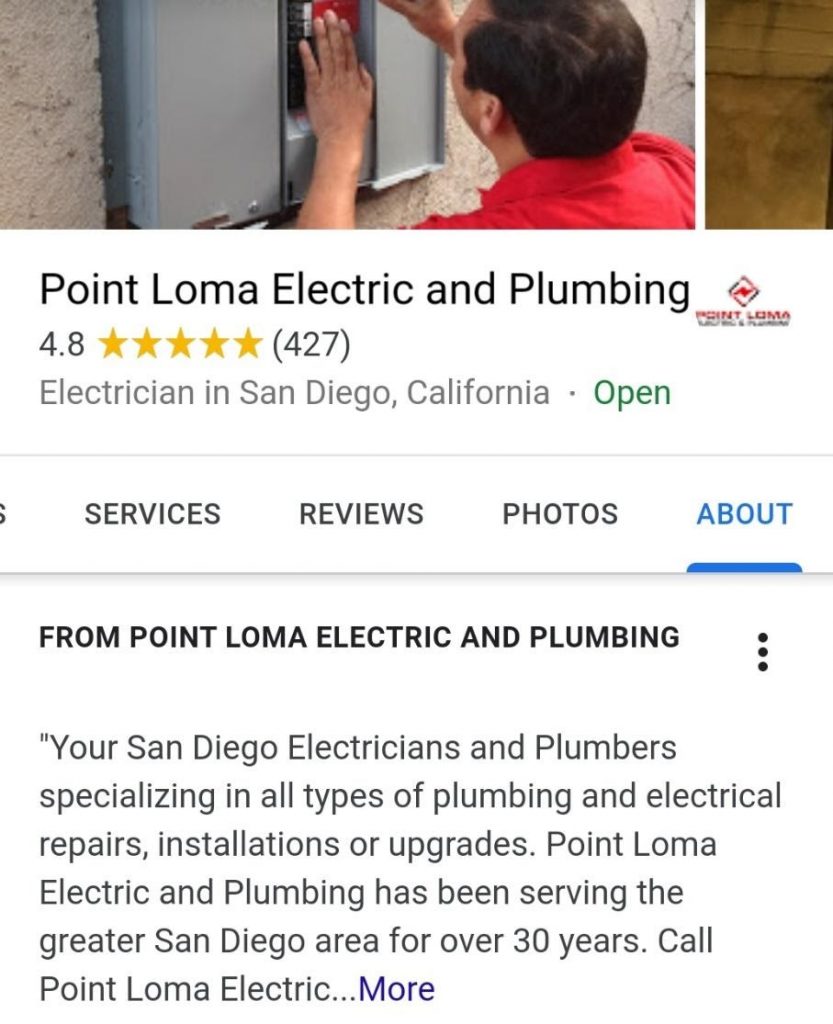 Do You Offer Services or Menus?
Service providers like salons or copying companies can utilize this spot to create a menu of their services. Google has left this feature only available for people in the food health and beauty industry or other service businesses that don't have a third party link to a menu.
 Since so many people are on mobile devices, this is an excellent place for you to breakdown the category of the different services or food items along with the pricing of your top-selling items for prospective clients to see what is available quickly.
It is very straightforward to do.  Log in to your GMB listing and click the Info button and then go down to the Services section, where you create a list of categories of items along with descriptions and prices.  
This process may take a while, so just be prepared to go into it with the end goal in mind. Trust us; it is well worth the effort when the reward of more cash flow starts rolling in.  
Just remember to update pricing on your services if you have to make changes.
2020 Summary Checklist Of A Well Optimized Profile
Name, Address, Phone Number and Website URL are exact

Appointment Links are functioning correctly

Categories and Subcategories are correct 

Service areas are specified

Business hours are precise and updated if changed

Popular products are listed with images, descriptions, prices, and links

Services are appropriately listed, including all secondary services (1000 character maximum)

Business highlights or Attributes are filled out

Concise, tightly written Business Description sharing your unique brand and story

Opening date

Photos and Logos (interior, exterior, team photos, headshot photo)

Videos are excellent ways to send a powerful message in 30 seconds or less

Reviews strategy for acquiring and responding to positive or negative reviews

Creating Google Posts to engage with people using images, shareable content, pictures, and offers

Google Questions and Answers are a relatively new feature to engage with users quickly while they are looking at you online. Be sure to monitor this section 
Google Wants You To Succeed
Google can see what kind of activity is going on between you, the business owner, and the Searchers landing on your Google my business listing. When your postings create engagement with people, Google notices.
You want to end up on page 1 for your keywords, and Google My Business can help you get there.
We are in the business of helping small, local business owners get found online ahead of their competitors.  Knowing what Google wants is a massive step in getting there, but if you need some extra assistance, feel free to request a one on one SEO consultation today. We can show you precisely what we can do together to save a lot of time and money while you grow your business.
And if you don't want to learn how to optimize and manage your Google maps listing yourself and you just want someone to take care of that for you we can help.