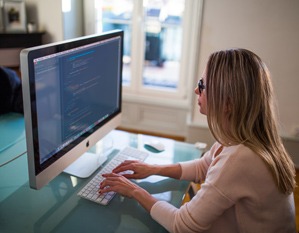 PERSONALIZED ONE ON ONE SEO TRAINING CLASSES
Our customized SEO training classes are designed for business owners, marketing professionals, entrepreneurs, and other individuals interested in learning SEO and applying it to better their business.
The goal is to make you smarter while search engine optimizing your own website.
Our online personal SEO training course is perfect for people that want to learn SEO and get more leads for their business.
WHY TRAIN WITH 1 ON 1?
Our service offers comprehensive one on one SEO training with an expert SEO tutor, who uses a virtual classroom to teach individual lessons that cater to your skillset and needs. Based on your existing knowledge, our SEO teacher will adapt a course on fundamental topics, from keyword research to optimized content writing to Google analytics and more. Classes are adapted based on the individual's business goals, current website, and learning style so that learning and benefit from each class can be maximized. 
 The SEO training course is developed around an individual's own website, meaning that actual improvements will be made to one's website during each lesson, and can also be used as the homework base each week. The value in this is that an individual can not only learn more easily by making changes to their own website, but they will also see the impact of each tool as the course progresses. 
 By offering weekly online courses, 1on1 is able to facilitate a one to one or individualized learning environment that is also convenient for the busy small business owner or employee who isn't certain they have the time to invest in learning SEO for themselves. With only an hour of your time each week and from the comfort of whatever location you desire, you can learn search engine optimization for yourself and transform your website. Classes will offer virtual tools that are necessary for learning SEO and instruct on how to use them. 
Benefits Of Working With An SEO Tutor
As a unique form of search engine optimization training, 1on1's SEO training classes offer benefits for working with our SEO tutor that set it apart from others

Learn at your own pace: If you do not understand something, we will continue to work at it until you do, so that you are sure to be able to use it effectively for your business.

Receive personalized classes: All classes are tailored to individual and business needs, and our SEO tutor is able to accommodate client requests for specific topics or focal points.

Work out of a virtual classroom: Receive search engine optimization training at your own desk, on your own computer via screen-sharing software that allows you to see exactly how to execute on-screen and more easily be able to duplicate what is covered in class.

Access to a shared Google Drive folder we will use for document collaboration and an easy place to find again.

Refer back to past lessons: Sessions will be recorded and a copy of each lesson and slide decks are provided for post-class review and future reference.

Continue learning beyond class time: Each session of one on one SEO training will be followed by homework tasks that will be reviewed in the following class, to gage learning and allow for website development.

Access to free SEO tools: The course offers access to free SEO tools as well as training on how to use them, so that you may continue to implement them in the future and save yourself digital marketing costs.