As a small business owner, marketer, or other individual running a website, are you using Google Trends as a tool for SEO and digital marketing? If you aren't already familiar with Google Trends and using it as one of your resources, it is really worth having a look at. Google Trends has the power to help you understand the trends in your industry, pivot accordingly, and in turn increase your business.
Google Trends: the tool your business needs to get more customers
Google Trends is a free keyword research tool that allows users to extract data regarding trending keywords and the popularity of searches on Google and YouTube. With this tool, you can look up different topics, keywords, or phrases and get a plethora of useful information about them, like their popularity across different countries or states, finding out the most searched wording of different keywords or topics, as well as compare different searches and how many searches are taking place over a certain time period.
SEO coaches recommend this tool as a digital strategy and SEO tool as it can help you with content marketing, keyword research, and location targeting. While there are many different and useful keyword tools including Moz, AH Refs, Keywords Everywhere, and Semrush, it is important to know which one is useful to your business and also how to use it, otherwise all of that data is useless. Google trends, in my opinion, is the one with the most up to date information and also the one that allows you to play around the most and make keyword research fun.
It is also important to note about this tool that, as the name indicates, this is all about finding trends. Trending topics may have no search volume in the tools mentioned above, since they take about a month of two to catch up. So, if you are really looking for what is important right now, Google Trends is a good place to look.
How to use Google Trends to your advantage
A great example for using Google Trends is on the topic of Covid-19. Coronavirus is great as it is a term that sprung up out of nowhere when the virus itself appeared, meaning that Google Trends is able to capture up-to-date information about how the search is evolving, something that other keyword tools cannot do. Let's use this example to see how exactly you can use Google Trends to benefit your business:
Compare one keyword against the other
Not all terms are used equally. Sometimes, a term can have various names or variations and it is important to know which ones are the most commonly used so that you as a business are using the right ones. Coronavirus is the perfect example of this, as the pandemic has been coined with the terms coronavirus and Covid-19. Both terms are used widely, but not equally. With a simple Google Trends comparison, you can see which one is the more popular and thus better for you to use in your marketing material: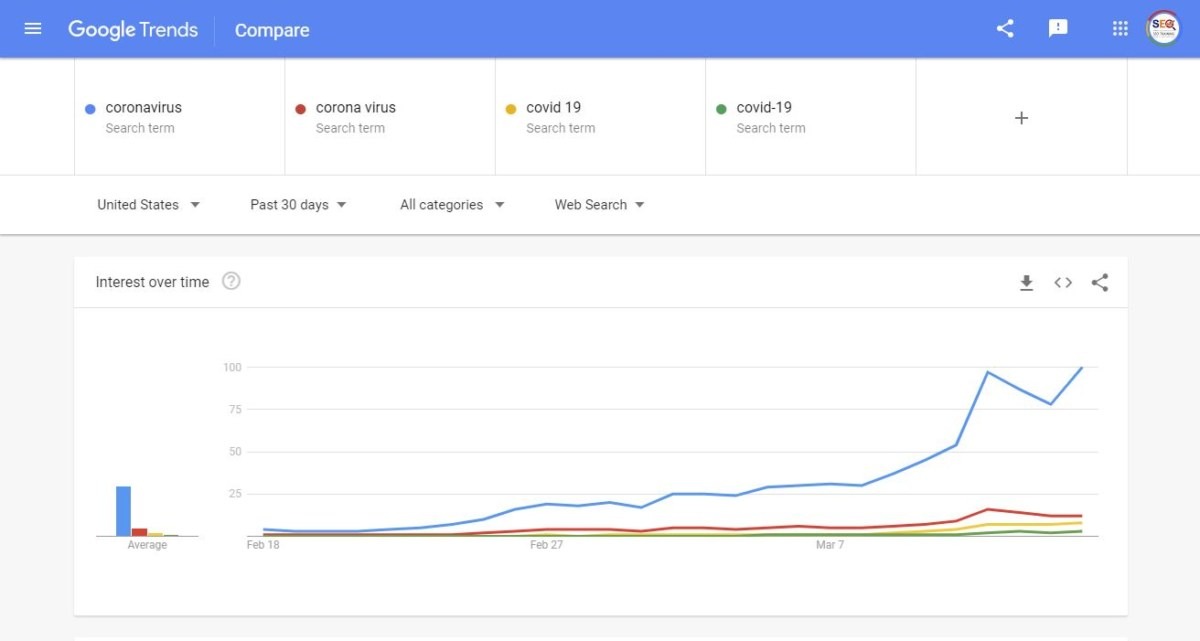 After looking at this chart do you think you should have a Covid-19 promotion? or a Coronavirus sale for your business?
Another example, to give you an idea of how a business would use the function is an important difference for a student of mine who is a trade show display distributor.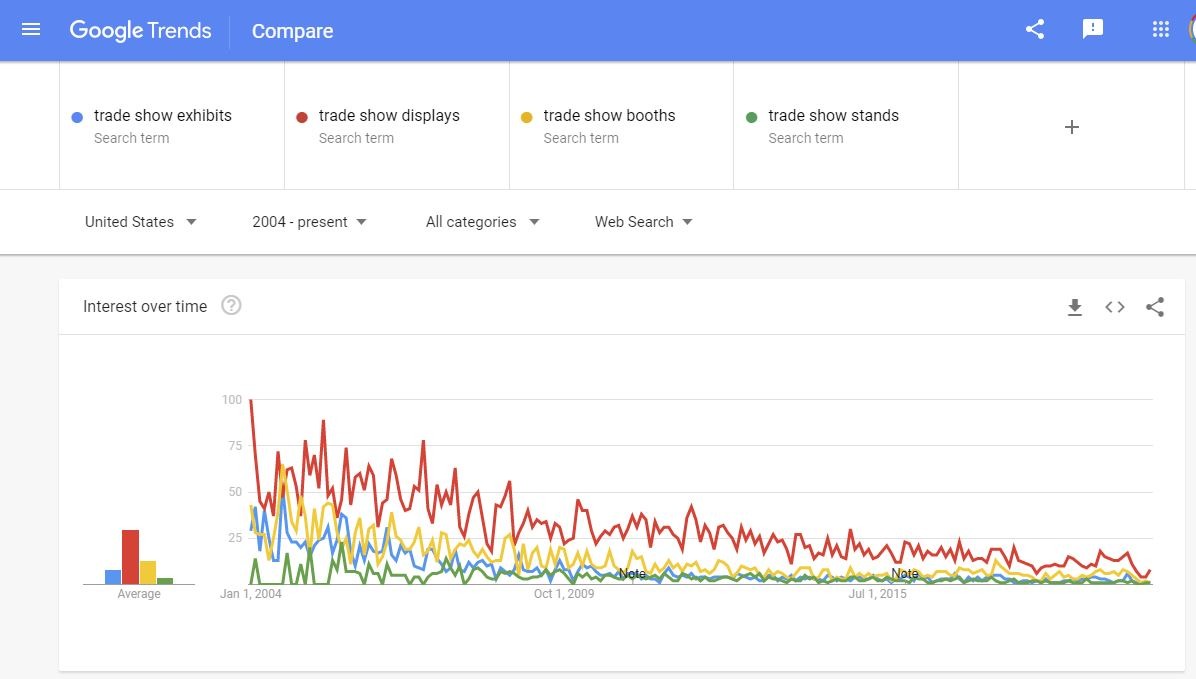 Use the timeline to get a better understanding of trends
With the timeline feature, you can see the popularity of search terms over time – spanning over the course of days, months or even years. This allows you to see when topics are hot and on the up (perfect for getting ahead of the curve), in decline, and compare things like certain seasons of the year or previous years.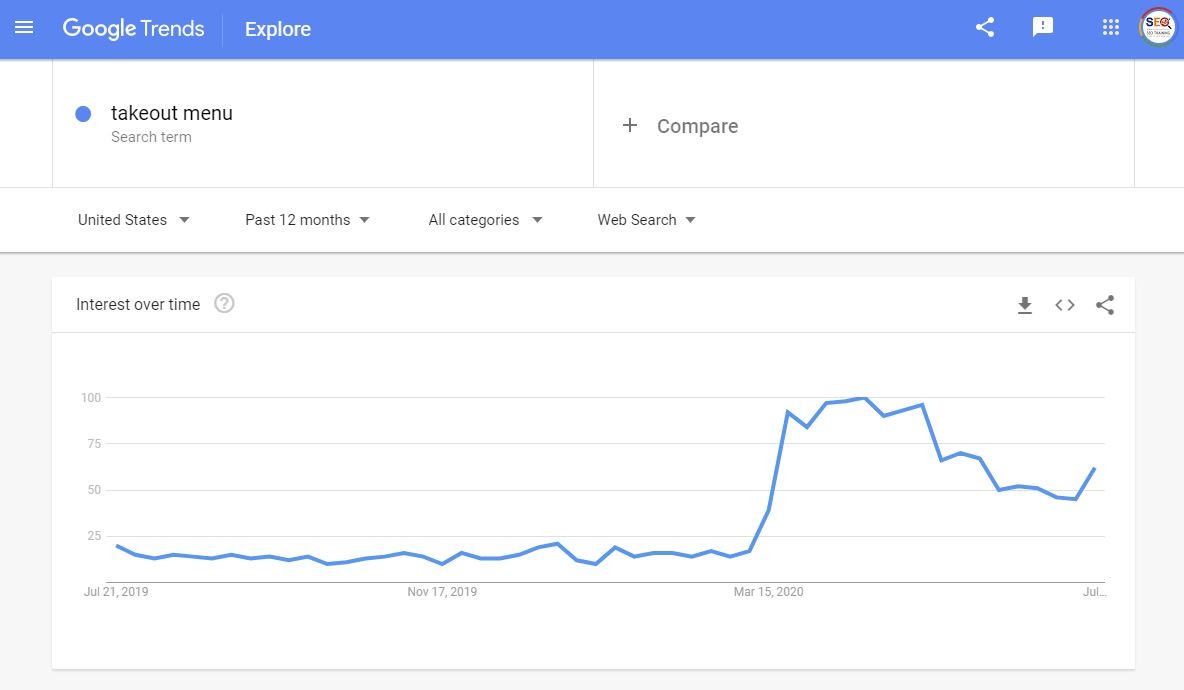 Use global and regional maps for geographic targeting
Google Trends has a map feature, which allows you to see search term popularity on a color-coded map. Choose either a global map to see worldwide trends, or have a look at how the term fares by state in the U.S. There are two options for doing this. First, you can search one term to see its level of popularity across the map.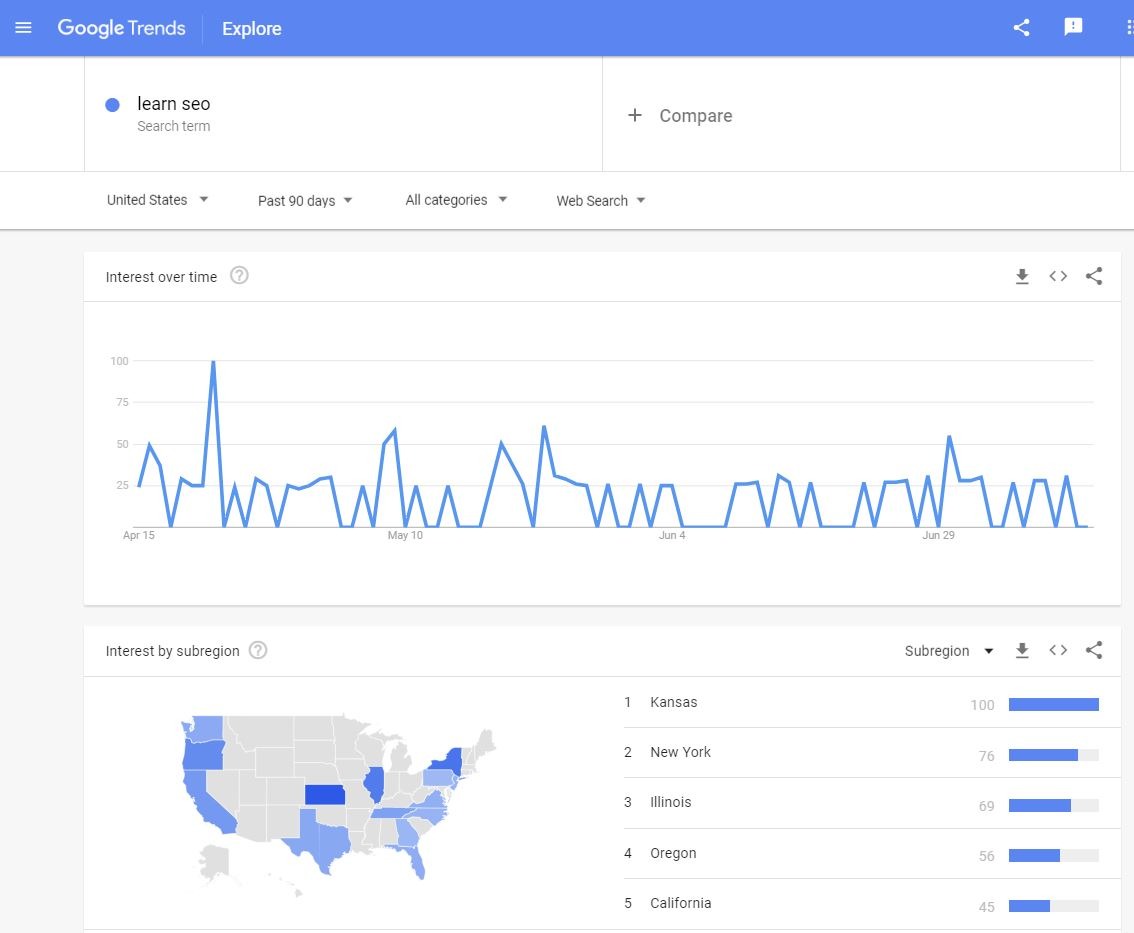 Second, you can compare two terms to see which one is more popular in each place.  This screenshot shown searches for veterinarian near me compared to animal hospitals near me Google searches.  For the states on the map in red, animal hospital is the winner. In the blue states more people search for veterinarian near me.   Overall they are both keywords are trending upwards though.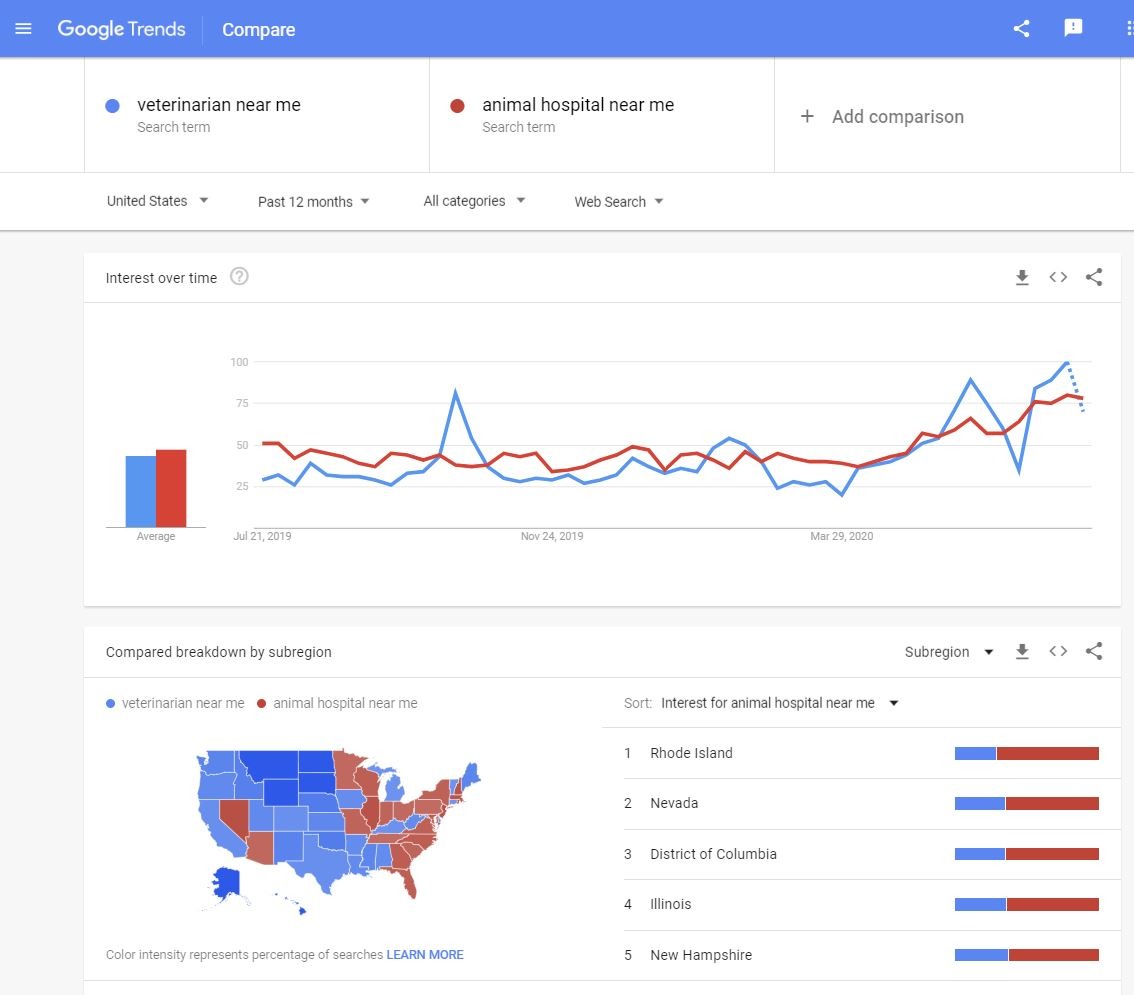 Lets add the keyword vet near me to the mix and see what happens.  The keyword "vet" could mean a veteran or a veterinarian but if are searching for one close by it can only mean one thing,  the search intent is that you are looking for an animal doctor to take your pet to.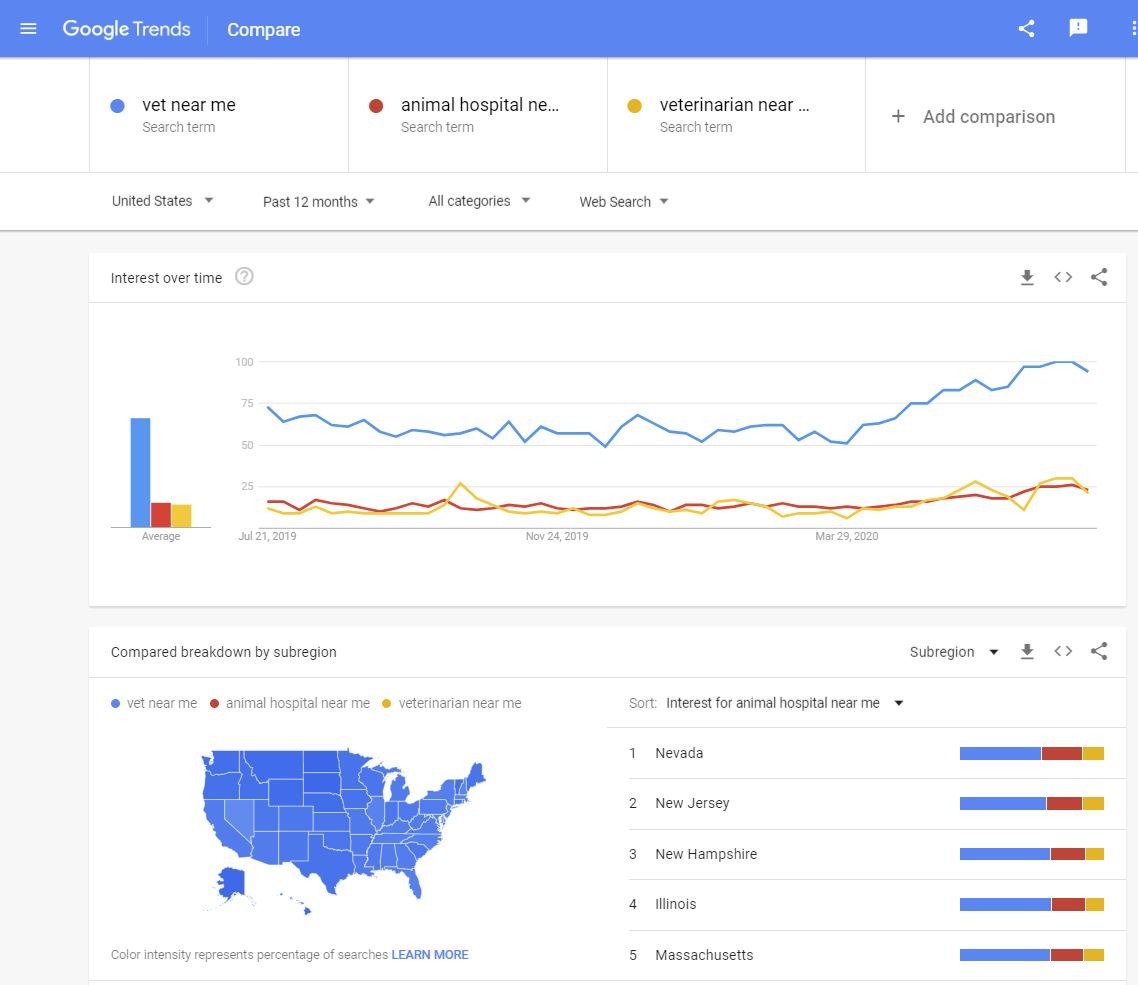 Check out what is popular right now
With Google Trends, you can also explore Internet trends and use it as a source of inspiration for generating keywords to use and topics to write about. It has a function for viewing general popular and trending subjects and phrases, themes, and even going into the archives of previous years. This is also a great starting point when looking for your keywords, so that you start big and narrow down. You can enter a very vague keyword about a topic you want to search, select a category, and go from there.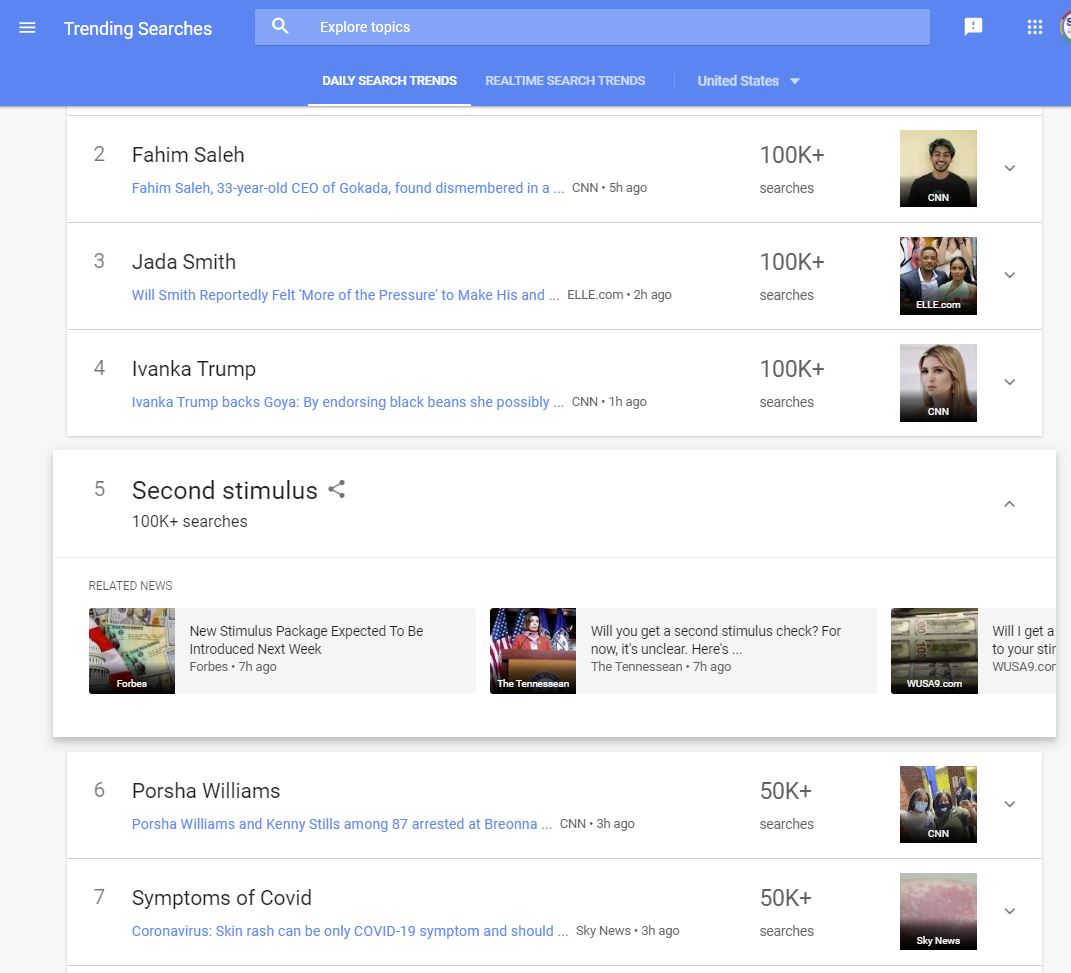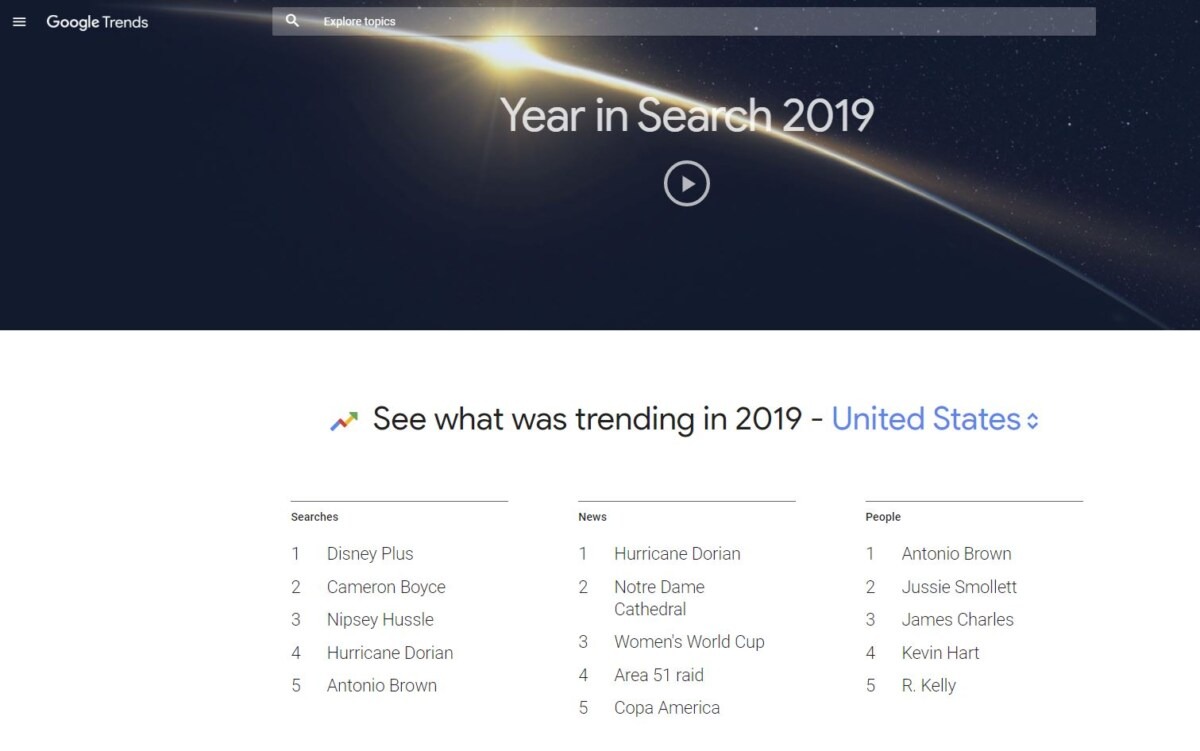 Ways to use Google Trends for better SEO
Keyword research
Keywords are the crux of search engine optimization. With a keyword-focused tool like Google Trends, you can not only find the right keywords to use for you business, but compare to keywords that you already rank for and compare traffic levels. Overall, Google Trends is one of the best tools for conducting keyword research, from the discovery process to finding rising queries to analysis after implementing them onto your site. Make sure to check: search volume, trending keywords, "breakout" keywords, keyword difficulty, related topics, and maybe even video optimization.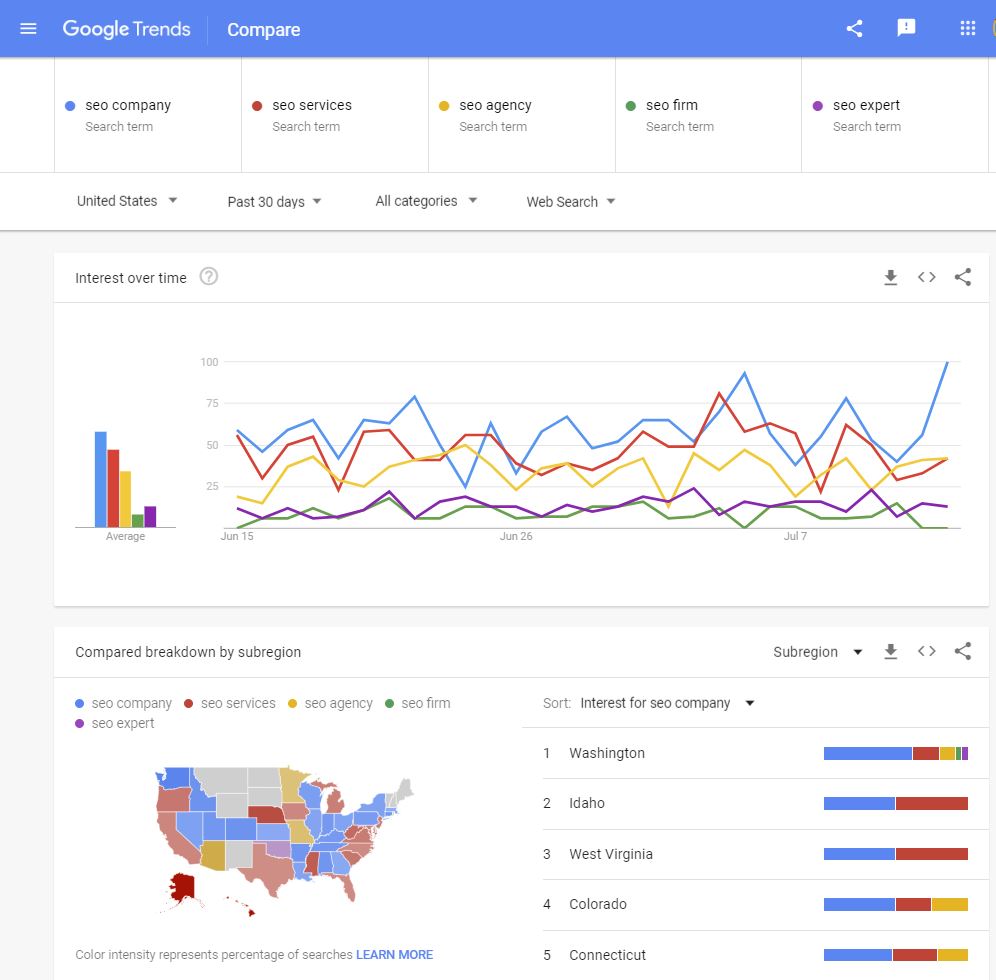 Improved content marketing
Use Google Trends to plan your content. Map out the keywords you would like to start using on your website and be aware of keywords that are trending downwards so that you can avoid them or stop using them completely. Once you are in tune with what end users are searching for, you will be able to adapt your content accordingly and start attracting more customers in a completely organic way. Likewise, it is great to get ahead of trends and start using search terms, which are likely to rise in popularity, to get you ranking higher from the start, and be considered an authority for that keyword phrase.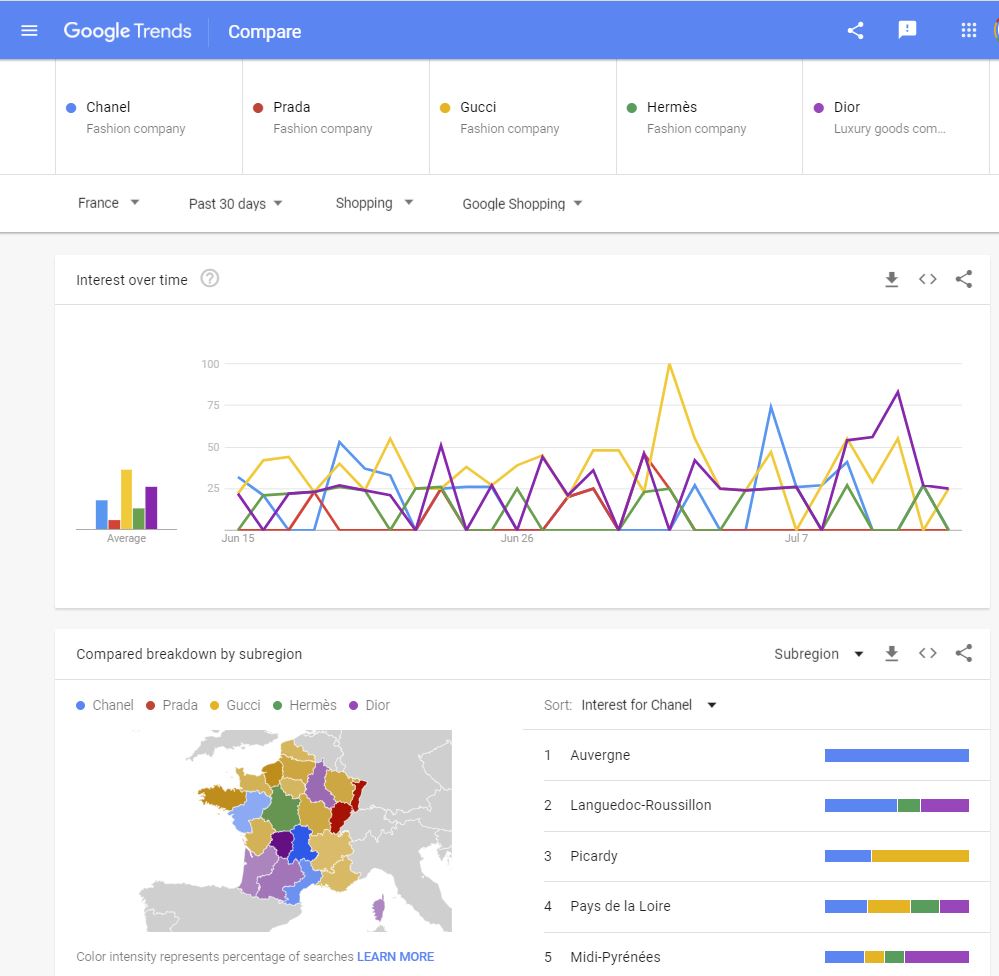 Planning posts
Get smart with your content publishing by understanding how the trends work. Certain keywords rank better on certain days of the week or times of the year. For example, Caribbean cruises tend to have the most search volume in the spring months of the year. Searched related to "how to" tend to be more numerous on Sundays and Mondays, where as "near me" searches rank higher on weekends. You can schedule blog posts to be published ahead of time and according to trends for optimal ranking potential.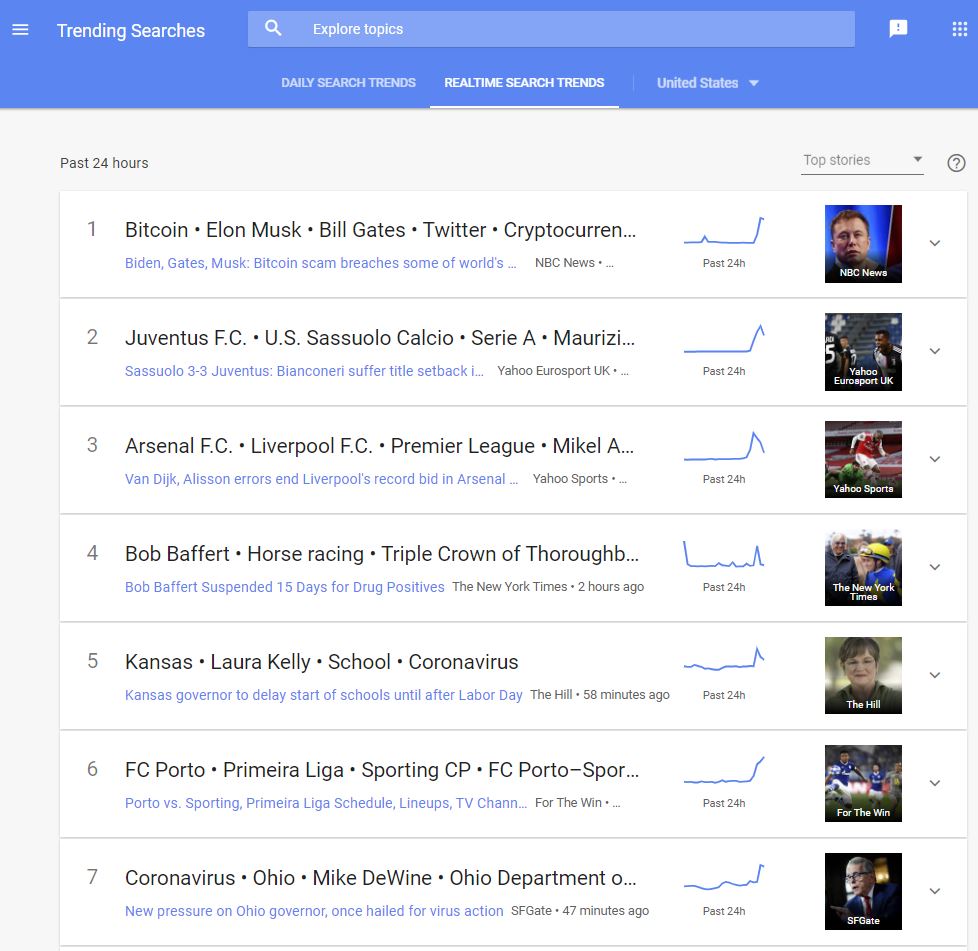 Local SEO
Local SEO can benefit from Google Trends, too! Geographic information can be great to boost rankings, when you use it to enhance your content and make your website land in front of relevant people. Tailor your keywords to a local audience and put an emphasis on local search phrases to get more validation in the eyes of Google and in turn more clients for your business.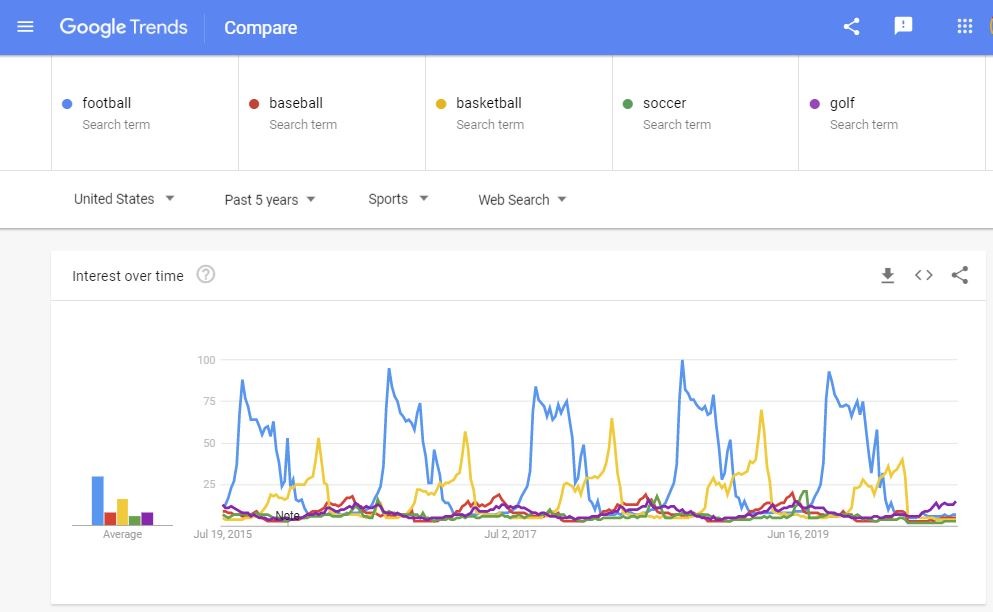 Learn how to use Google Trends with 1on1 SEO Training
Overall, Google Trends is a great, must-have tool for anyone with a website looking to attract customers and gain new business. As a one on one SEO training coach offering personalized classes to teach you how to do SEO and digital marketing for your business, Bruce Jones is a specialist in all things Google. Google Trends is one of the many topics that 1on1 SEO Training offers in its custom made program. Find out more about 1on1 SEO Training's curriculum to see how a little training can allow you to become your own digital marketer and completely transform your business. https://1on1seotraining.com/pricing/